This Thursday, Sept. 21 we will be giving the Horizon test to all 9th, 10th, and 11th grades. Seniors are expected to stay at home and work on a virtual assignment given by their classroom teacher. If any Senior would like to go to the career center, they may but will need to make arrangements to catch the career bus at the appropriate time. All students taking the Horizon test Students - You should have activated your horizon account if not please see your teacher        - Make sure your iPad is fully charged for testing on Thursday       - Report to your regular 1st block Thursday morning Morning JDR/online students with last names beginning with A-L will report to Mr. Howell's room. Morning JDR/online students with last names beginning with M-W will report to Mrs. Nelson's room. All morning JDR students will eat during the 1st lunch. Afternoon JDR/Online students report to Mr. Howell block 3B and Dr. Arehart fourth block. There are room assignment lists hanging in the hall.
Good afternoon Oak Glen parents and students, All Oak Glen High School Juniors students will be taking the SAT test tomorrow, March 22nd at Oak Glen High School. Our Junior students will be the only students in our building tomorrow to take the test. Our seniors, sophomores and freshman students will be at home and are responsible for doing their work online from home. Good luck to all of our Junior students tomorrow and make sure that you are prepared to do your very best on the SAT test. Finally, this is a reminder that all Junior parents and students must know that you will need to have your TDAP and meningitis vaccine before the start of school or sports next school year. This is required before the start of your senior year. Good luck Juniors tomorrow!

Hancock County Schools would like to thank all those who helped with and voted for the Hancock County Schools Excess Levy. The passage of this levy is an investment in the future of our students, staff and community. Thanks again for your support and commitment.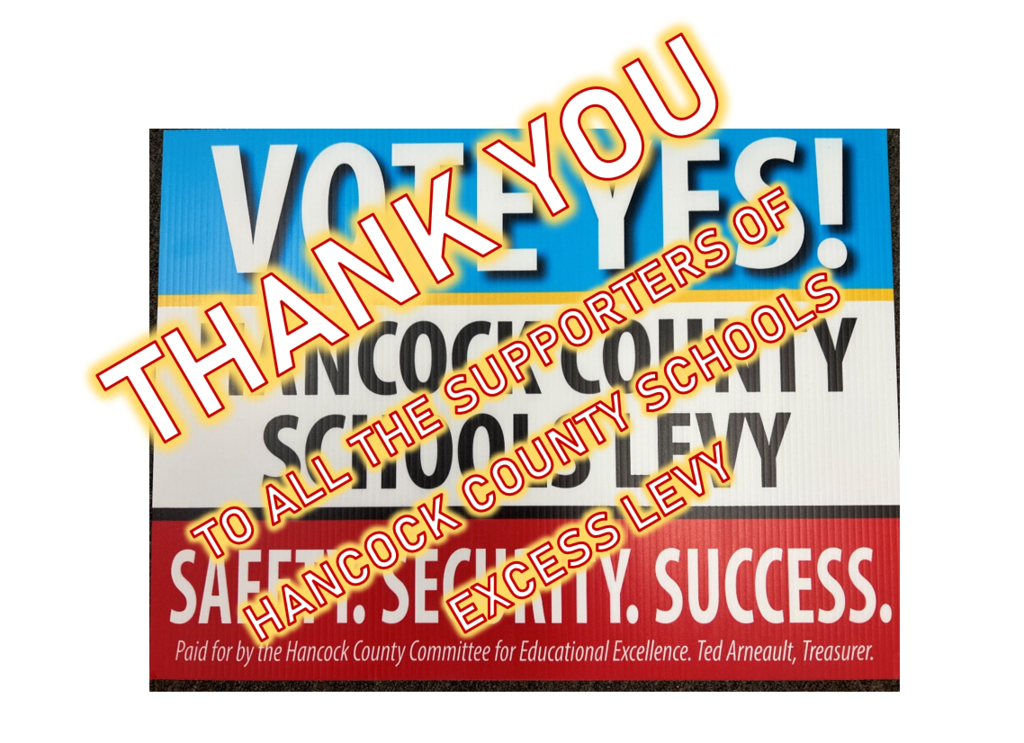 The Oak Glen High School main office will be open for students or parents to pick up their student report cards beginning June 8 through June 24th. The main office will be open from 7:30 am to 2:30 pm. Have a great summer.

Good Morning, this is Mr. Smith. I want all students and parents to be aware of our SAT testing date on Wednesday, March 23rd at OGHS. On Wednesday, only our Junior Students will be taking the SAT assessment. All other classes of students (Seniors, Sophomores, and Freshman) Will be doing remote learning from home on Wednesday. Junior students will attend school as if a regular school day but will be taking the SAT test - which can benefit them greatly with their future plans. Breakfast will be provided to our Juniors on Wednesday from 7:00 to 7:30 and snacks will be provided after the completion of the test to all of our students. I wish good luck to all of our Juniors on the SAT assessment on Wednesday and please do the very best you can. Have a great day.

Come check out our brand new website!